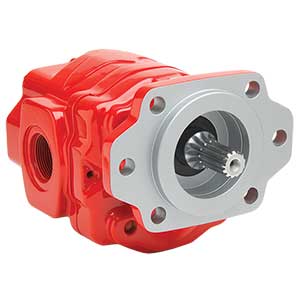 X19-05CJ1-HEHE-A14
Original price
$1,988.42
-
Original price
$1,988.42
We use this motor for the DTS-B73403 along with DTS-M10176 coupling
Muncie's Optimum Series high performance gear pumps/motors offer high pressure capabilities and are designed for durability and long life for many truck and mobile equipment applications. Full featured design allows for reduced inventory requirements and installation flexibility. The Optimum Series offers superior benefits &  added value in a cost competitive package unmatched by the competition.
Why the Optimum Pump?
Patented Opti-Grip technology resists casting separation by press fitting two piece castings together for greater structural integrity over other traditional designs
Rigid pump design for long life and maintained peformance
Allows for higher pressure capabilities
Available in tandem and triple configurations
13 tooth gear design provides smoother operation and reduces hydraulic noise
Standard bi-directional design with both side and rear ports
Premier performance for a wide variety of applications across several industries
PUMP SPECIFICATIONS
Model Number
Displacement in3 (CC)
MAX* RPM
MIN* RPM
MAX Pres. PSI (BAR)
Ports (ODT) Side & Rear
Ports (SF) Side Only
Weight lbs. (Kg)
X14
3.18 (52.1)
3000
800
4350 (300)
-20
2.0" X 1.25"
52.9 (24.0)
X16
3.83 (62.9)
3000
600
4350 (300)
-20
2.0" X 1.25"
54.7 (24.8)
X19
4.44 (72.8)
3000
600
3750 (260)
-24
2.0" X 1.25"
55.9 (25.3)
X23
5.20 (85.3)
2750
600
3500 (240)
-24
2.0" X 1.25"
58.0 (26.3)
X25
5.69 (93.4)
2750
600
3250 (225)
-24
2.0" X 1.25"
59.3 (26.9)
X27
6.35 (104)
2500
600
3000 (210)
-24
2.0" X 1.25"
61.1 (27.7)
X30
7.01 (115)
2500
600
2500 (190)
-24
2.0" X 1.5" 
62.9 (28.5)
X33
7.78 (128)
2500
600
2500 (190)
-24
2.0" X 1.5" 
65.0 (29.5)
X36
8.43 (138)
2250
600
2250 (155)
-24
2.0" X 1.5" 
67.0 (30.4)

Notes: 

MAX RPM is shown at 0 in.hg. and with an appropriately sized inlet hose
MAX motor back pressure is not to exceed 150 PSI (10 BAR)
MAX inlet vacuum is not to exceed 5in.hg. (0.17 BAR)
Weights shown are for single, direct mount pumps
Porting shown is standard pump porting, other porting configurations are available
Motor applications will require a case drain to be plumbed directly back to the reservoir due to excessive return line pressures or surges
 DTS-M10176
Shipping Information

Can I ship to a PO Box?

No. Unfortunately, UPS will not allow us to ship our parts to a PO Box. If you make an order with a PO Box for the shipping address, the order will be held until we are able to get in touch with you to find an alternative address.

When will my order be shipped?

For orders placed before 1pm Monday-Friday, we will ship all in stock items the same day.

Orders placed after 1pm will be shipped on the following business day.

Orders placed over the weekend will be processed on the following Monday.

How can I track my order?

Shipment tracking information is on every invoice that's emailed.

You can also always email/call us and we will be happy to look into the status of your order for you.

What happens if an item is out of stock?

While we try our best to keep everything available at all times, occasionally we will temporarily run out of something. If that happens, we will notify you about the backordered item and give you a time frame on the expected availability (when possible).

We will still ship out all the in-stock items immediately and then work with our vendors to get you your remaining parts as soon as possible.

What if I want to use my own shipping account?

At checkout, you will have the option to select "Use Your Shipper Account" as the shipping method.
You will then be prompted for your account number and desired carrier/option.
You will also have an additional notes field available if you need to provide any additional instructions.
Refund Information

Dolphin Tanker stands behind every product we sell. It is our intention to make the return process as quick as possible to ensure complete customer satisfaction. To aid in this process, please have the following information at hand before initiating your return:
Dolphin Tanker Water Truck Parts invoice number or your PO#

STEPS FOR SUBMITTING YOUR RETURN

Please call Dolphin Tanker @ 813-704-4849 or via e-mail to kim@dolphintanker.com

Dolphin Tanker will issue a Return Materials Authorization (RMA) number and form. The RMA will be valid for 30 days from the date of issue. Returned parts will not be accepted for credit after the RMA expiration date.

Products must meet the following criteria to be eligible for a return:

Returned within 30 days of original receipt of merchandise.
Unused and in the same condition that you received it.
No special order or custom-made parts may be returned.
Parts not included on the RMA form will not be accepted or credited. The purchase price (less 20%) of acceptable parts will be refunded as a credit to your account or credit card. Freight charges are not eligible for credit. Credits for acceptable returned parts will be issued within 30 days of receipt of the part.

The return shipment should be sent to the following address:
Dolphin Tanker
2550 East US HWY 92
Plant City, FL 33566

https://goo.gl/maps/SkcAEkPEpSG2

*20% restocking fee will be charged for returns
due to incorrect orders or general reasons.